CHIMIREC Canada
Great performances in the beautiful province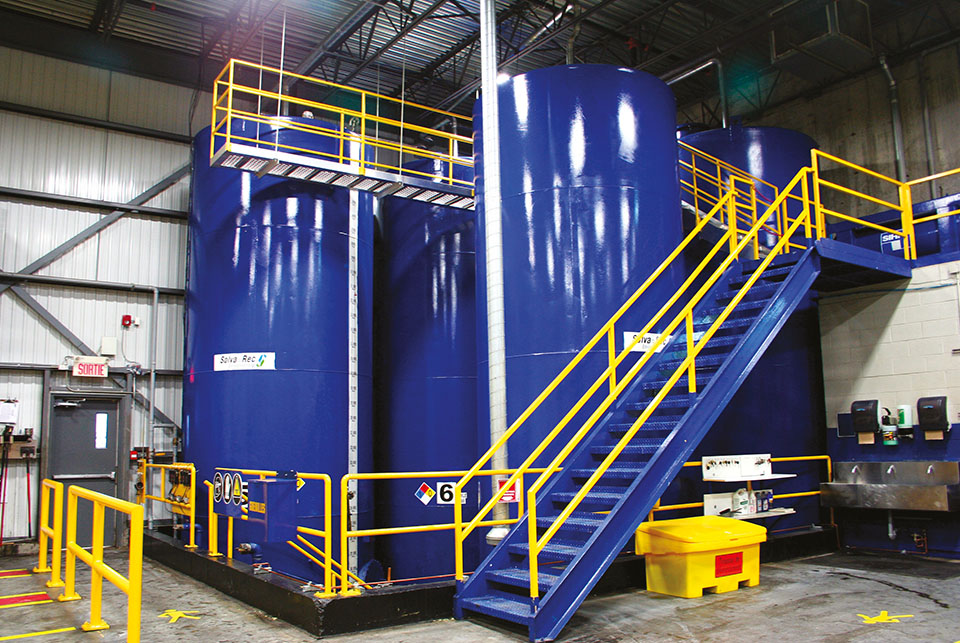 CHIMIREC has been operating in Canada since 2009, when the Group acquired Solva-Rec Environnement, a small company specialising in the collection of hazardous waste. In 2015, a second subsidiary, FEC Technologie, joined the Group, bringing its expertise in the treatment of contaminated water in plants.
Today, CHIMIREC's two Canadian subsidiaries, Solva-Rec Environnement and FEC Technologie, have more than 40 employees and manage more than 25,000 tonnes of waste per year.

Spring 2021: very positive results
It was with a smile that André Lachevrotière, President of CHIMIREC Canada, announced in mid-April: "We are proud of the results so far!There is still a lot to do but we will get there."
And indeed, coming out of winter, a traditionally difficult season in this country and one that was made even more so by the pandemic, CHIMIREC Canada is performing better than in previous years, both in terms of health and safety and from a financial perspective.

A promising horizon for strong development
Over the last two decades, the CHIMIREC Group has seen its Canadian subsidiaries increase in size and expertise in waste treatment. 
This partnership dynamic continues with: 
The construction of a third site dedicated to the collection and treatment of black oils. Under the name of Recyclage Hydrocarb, this new facility includes:
a 9,000

m2

plot of land.

a 1,200

m2

building with a storage capacity of 600,000 litres of black oils.
Begun at the end of 2019, the work underwent the impacts linked to the Canadian winters and then to covid 19 to end with the opening of the site: the first trucks were unloaded on 28 April!
With an annual collection of 2 million litres planned for the first year of operation, Recyclage Hydrocarb has set itself the very ambitious target of reaching 8 million litres by 2025.

Solva-Rec Environnement's proposed acquisition project of another site in the province of Quebec. Located 400 km from Montreal, on a strategic route between New Brunswick and Montreal, this location will allow our subsidiary to expand its geographical area of influence for the collection of used oils and other hazardous waste. 
The site features:
a 7,500

m2

plot of land.

a 1,000

m2

building.

several trucks.

a laboratory.

an authorisation for transit and consolidation of residual hazardous materials.
This acquisition is the logical continuation of a long partnership, in full confidence and transparency. This bodes well for the smooth integration of this new entity within CHIMIREC Canada, and more globally within the CHIMIREC Group.

From one acquisition to the next.
And this is not the only project underway! Our Canadian collaborators are currently finalising the purchase of a new plot of land to set up a pre-treatment site which will perfectly complete CHIMIREC's offer in the Belle Province.
Accompanied by our CHIMIREC Development teams, our cousins on the other side of the Atlantic are showing the same synergy and dynamism that we know at the Group's headquarters.
To conclude: geographical expansion, integration of new teams, development of a new site dedicated to treatment and all this during a pandemic whose end is not in sight, there is a lot to do but the confidence is there. We echo the words of André Lachevrotière: "We'll get there! ".
 

Solva-Rec Environment

Location:

 Saint-Jean-sur-Richelieu - Quebec
Number of employees: 36
Operations:

Transport and management of residual hazardous materials

Used oils recovery

Parts washing service

Environmental consulting service

 

FEC Technologie

Location:

 Magog - Quebec
Number of employees: 9
Operations:

Transport and management of residual hazardous materials

Treatment of contaminated water

Industrial cleaning

Environmental consulting service
Published : 2021-05-20