CHIMIREC Canada
Recyclage Hydrocarb devient 100 % CHIMIREC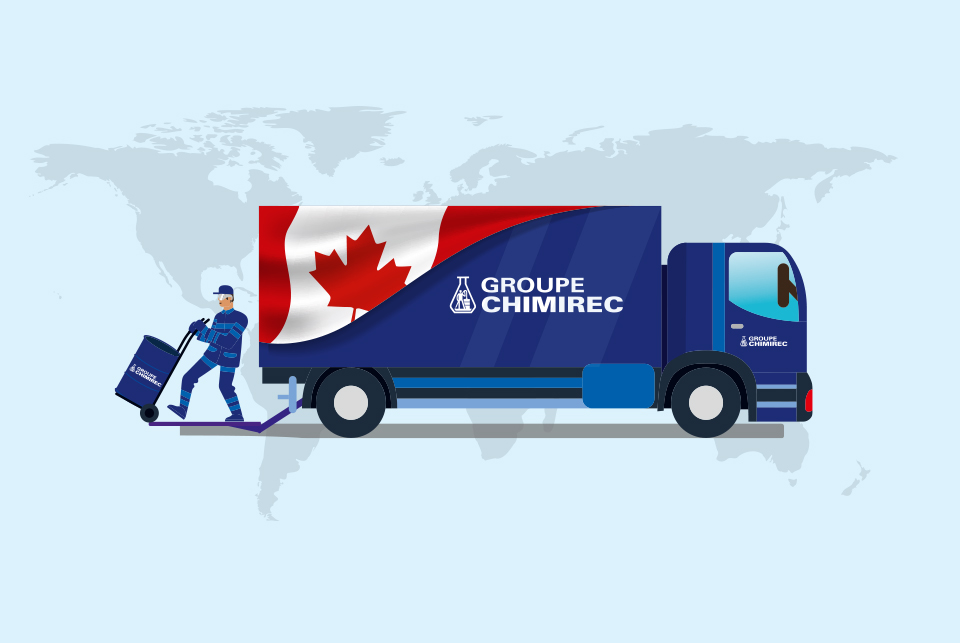 The CHIMIREC Group has been present in Canada, and more specifically in the province of Québec, since 2009 and has two subsidiaries specialising in hazardous waste management: Solva-Rec Environnement and FEC Technologie. Today, the Group is continuing to expand and strengthen its activities by acquiring Recyclage Hydrocarb.
Collection and grouping of used black oils
In France, the CHIMIREC Group has been a recognised expert in the collection of black oils, for over 60 years. In Canada, it is no coincidence that the Group has invested in 2019 in the construction of a site dedicated to the collection and consolidation of used black oils, in partnership with Campor Environnement, a company specialising in this type of activity and responsible for its operation.
Recyclage Hydrocarb, the facility has a 9,000 m2 site and a 1,200 m2 building with a storage capacity of 600,000 litres of black oil.

At the end of June 2023, following disappointing operating results, the CHIMIREC Group bought out Campor Environnement's 50% stake in Recyclage Hydrocarb.
A tenfold synergy with Solva-Rec Environnement
Located a stone's throw from the Recyclage Hydrocarb site, the subsidiary Solva-Rec Environnement will be taking over the reins of the company. There is already a plan to extend the black oil collection activity to the industrial sector. So far this was limited to the automotive sector.
Jean-Charles Dumais, Director of Development, and Mike Gagnon, Operations Manager, will be responsible for the development of Recyclage Hydrocarb.
Their solid experience of the business will undoubtedly lead to rapid growth in volumes collected. The aim is to increase volumes fourfold or even fivefold.
CHIMIREC Canada accredited by SOGHU
Like the eco-organisation Cyclevia in France, the Société de gestion des huiles usagées (SOGHU) is responsible for organising and supervising the collection and recovery of used oils in Québec:
used oils and used glycols (antifreeze agents).

used oil and glycol (antifreeze) containers of 50 litres or less (including used aerosol containers of lubricants and brake cleaners);

used filters.

 
Set up on 1 January 2005, SOGHU covers a group of companies marketing the products covered by this collection and recovery programme. SOGHU is a member of UOMA Used Oil Management Association of Canada.
CHIMIREC Canada
SOLVA-REC ENVIRONNEMENT
Lieu d'implantation : Saint-Jean-sur-Richelieu – Québec
Nombre de collaborateurs : 55
Activités :
Transport et gestion des matières dangereuses résiduelles
Collecte des huiles usagées
Service de lave-pièces
Service de consultation environnemental
En savoir plus : https://www.solva-rec.com  
Contact : info@solva-rec.com


SOLVA-REC ENVIRONNEMENT
Location: Saint-Jean-sur-Richelieu - Quebec
Number of employees: 55
Operations:
Transport and management of residual hazardous materials
Used oil collection
Parts washing service

Environmental consulting service

 
Find out more: https://www.solva-rec.com  
Contact: info@solva-rec.com


FEC TECHNOLOGIE
Location: Magog - Quebec
Number of employees: 7
Operations:
·         Transport and management of residual hazardous materials
·         Treatment of contaminated water
·         Industrial cleaning
·         Environmental consulting service
Find out more: http://fectechnologie.com
Contact: reception@fectechnologie.com
Published : 2023-07-20