CHIMIREC MAROC : Des perspectives en accord avec les valeurs du Groupe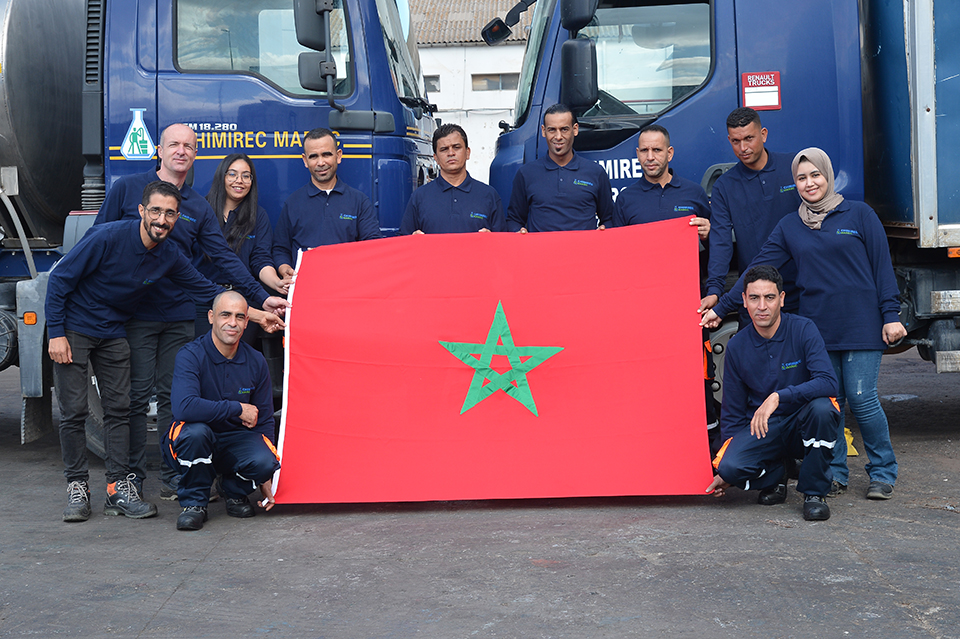 When Fabien Molinier took up his post as the new director of CHIMIREC Morocco in February 2022, his priority mission was to carry out a thorough reorganisation of the operation of this subsidiary of the CHIMIREC Group. Today, it is done and we applaud the work done by Fabien Molinier and his team.

Established in 2018, CHIMIREC Morocco, the latest of the Group's international subsidiaries, specialises in hazardous waste management and the manufacture of energy substitution fuel (ESF). It is located in Kénitra, about forty kilometres from Rabat, and has a team of twelve employees. Since its opening, it has increased its operating area, its sales team has been strengthened with the recruitment of a senior sales manager and it has become a 100% CHIMIREC subsidiary, the Group having bought out the shares originally held by a local partner.
Having held several positions in Moroccan industry over the past twenty years, Fabien Molinier is familiar with the local context. The implementation of environmental regulations is relatively recent and practices in the field rarely meet the requirements advocated by the Moroccan Ministry of the Environment.
For its part, CHIMIREC Morocco does not intend to deviate from the values on which the reputation of the CHIMIREC Group has been built:
Thanks to its professionalism and the transparency of its practices, CHIMIREC Morocco is increasingly sought after by local companies and European companies established in Morocco. This is the case of automobile equipment manufacturers such as Peugeot. Because of its manufacturing quality, the energy substitution fuel produced by CHIMIREC Morocco is of interest to several cement manufacturers, such as the Moroccan subsidiary of Lafarge, Asment Temara of the Votorantim Cimentos Group or Ciments de l'Atlas CIMAT.
The objective of Quality Safety Environment certification
Following the example of CHIMIREC Polska which recently obtained the Quality Safety Environment certification, CHIMIREC Morocco wishes to engage in a certification process.
Fabien Molinier spent several days at the CHIMIREC Group's headquarters in Aulnay-sous-Bois (93). During workshops organised by Valérie Tauzelly, Quality, Safety and Environment Director, and Stéphane Debicki, Sales Director, he was able to benefit from the Group's expertise and experience in this area, particularly from the point of view of the methodology to be implemented within CHIMIREC Morocco.
Published : 2023-05-23