In Morocco, 100% CHIMIREC development !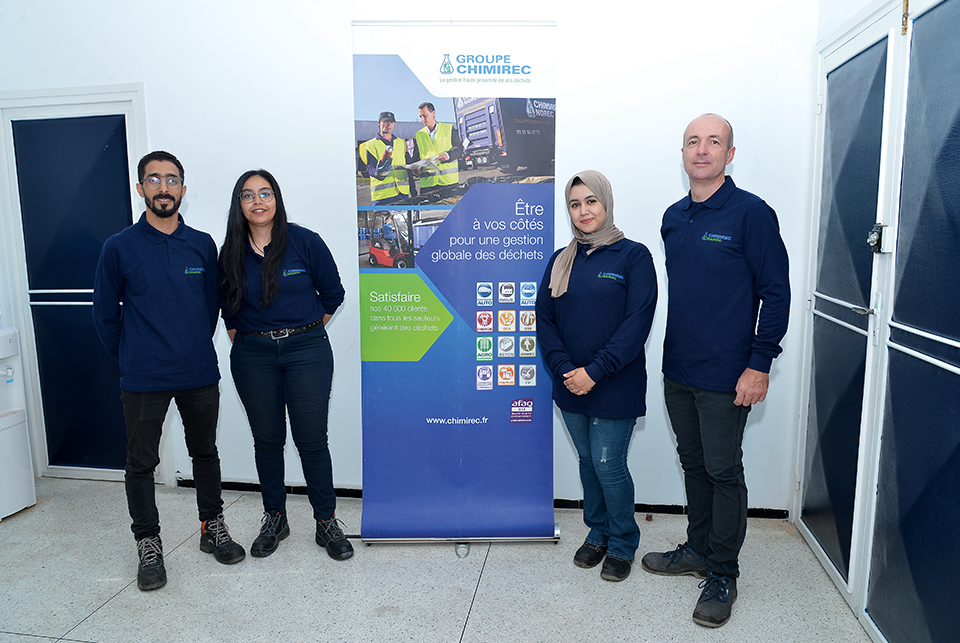 With the arrival of a new director in February 2022, the extension of the operating site located in Kénitra, the reinforcement of the sales team, and the purchase of the 25% of the subsidiary's shares held until then by a local partner: CHIMIREC confirms its full commitment to the Moroccan territory for the development of its activities in accordance with the Group's demanding values.
A new direction for CHIMIREC MOROCCO
Established in Morocco since 2018, the latest international subsidiary of the CHIMIREC Group has quickly succeeded in establishing itself in the emerging waste management market. The quality of its professional expertise has already been recognised by clients such as the University of Rabat, the Port of Casablanca, Techno Gaz, PSA, Valéo, etc. They are all truly confident of the quality of the services provided by CHIMIREC Morocco, even with emerging environmental regulations, and CHIMIREC Group continues to apply its high standards at a level identical to that of France and the other international subsidiary.


Under the leadership of its new director, Fabien Molinier, a Moroccan by adoption for nearly twenty years and who has acquired solid experience in the local industry, the objective of CHIMIREC Morocco is to become an essential, transparent, and secure local player in this growing sector.
The positions taken by His Majesty Mohamed VI, within the framework of COP 22, lead us to believe that the legislative framework will continue to evolve in favour of sustainable development, the reduction of environmental impacts generated by companies, and the controlled treatment of their waste.
In line with these directives, CHIMIREC Morocco has met with all the Moroccan cement manufacturers (Lafarge, Heildelberger, Ciment de l'Atlas, ...) who have confirmed their keen interest and availability for the subsidiary's future products.
With the recruitment of a senior sales manager, the subsidiary has the means to strengthen its presence in the market and to deploy its advisory role with companies, in the service of a virtuous management of their waste and energy recovery. This consulting mission has remained essential to the development of the CHIMIREC Group for over sixty years. It has significantly contributed to its reputation for expertise and reliability in the field of hazardous waste management.


In support of this commercial proactivity, the surface area of the Kenitra site has been significantly expanded to optimise the management of the storage of collected waste and to significantly increase the production capacity of ESF of CHIMIREC Morocco.

Today, by choosing a 100% CHIMIREC management, with François De Tarragon, international director of the CHIMIREC Group and manager of the Moroccan subsidiary, the will is clearly demonstrated to accompany Morocco on the way to efficient and responsible waste management, in strict compliance with the regulations in force.
Published : 2022-09-26