Internationally, the growth indicators are all green!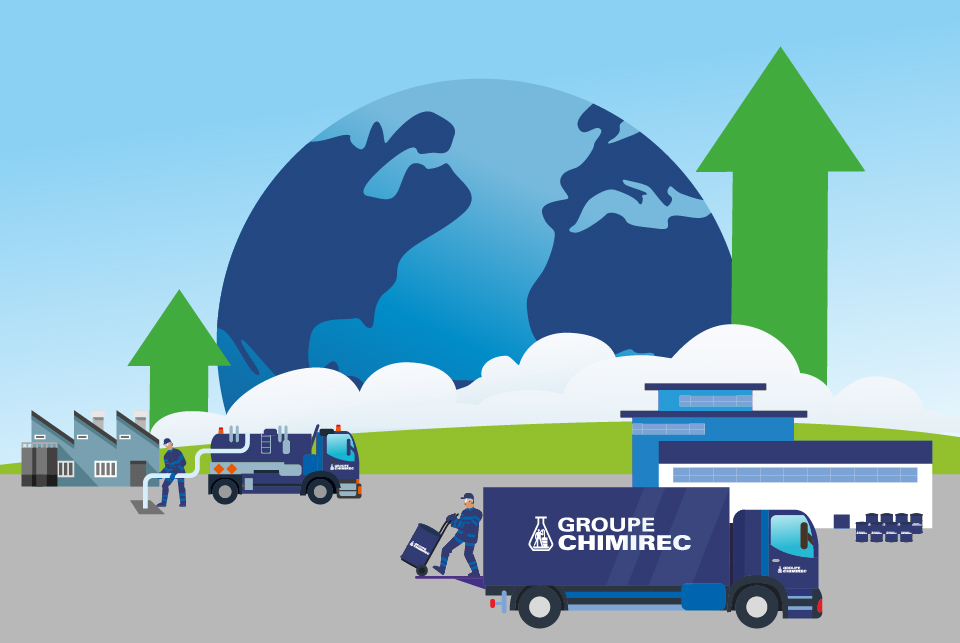 For the CHIMIREC Group, the outlook for international development in 2022 is very favourable. "Except if we were to suffer a further downturn in global economic activity inflicted by covid, our Group is resolutely optimistic about the growth of its foreign subsidiaries for the coming year," says François de Tarragon, International Director of CHIMIREC Group.
These favourable forecasts are based on a combination of factors that benefit the waste management sector as a whole and specifically the choices and expertise of the CHIMIREC Group in this field.
Environmental issues and regulatory enforcement
Awareness of environmental issues has increased worldwide. We can only welcome this because, in fact, the problem is global in scope. The issue of waste management plays a major role in an environmental preservation policy, especially when it comes to hazardous waste. 
Therefore, to fight against bad practices or uncontrolled landfills, which constitute risks for human health and the natural environment, more and more countries are adopting, and in some cases strengthening, regulations relating to the collection and treatment of hazardous waste, with levels of requirements that resonate with CHIMIREC's values.
High demand for energy substitution fuels
In a desire to reduce their use of fossil fuels and to decarbonise their activities, industrial companies, and in particular cement manufacturers, are moving towards the use of renewable energy substitution fuel. This has the dual advantage of saving exhaustible fossil fuels and contributing to the virtuous model of the circular economy by recovering the waste collected.
CHIMIREC puts its expertise 

at the service of requesting countries 

at the service of requesting countries
A forerunner in selective waste sorting at the time of its creation in 1958, the CHIMIREC Group was also involved very early on in the development of recovery processes, in particular the manufacture of Energy Substitution Fuel (ESF). This expertise acquired in France is already shared by its subsidiaries abroad. CHIMIREC Avrasya in Turkey is a shining example with a production of 45,000 tons of ESF in 2020, a figure that will increase again in 2022!
In the other countries where CHIMIREC is established, i.e., Poland, Canada, Morocco, Saudi Arabia the global service offer set up by the CHIMIREC subsidiaries is also perfectly in line with local needs. Namely, the collection, sorting, and pre-treatment of hazardous waste in complete safety combined with a ESF production line, all of which guarantees 100% traceability and optimum recovery.
The demand is there, the CHIMIREC Group does everything possible to equip its subsidiaries with the appropriate production tools and the required logistics, and systematically benefits from the support of local supervisory authorities.
The only difficulty encountered is in recruiting teams and skills, because of a lack of personnel to hire, as is the case in Canada, or because of a lack of qualifications in new markets, as is the case in Morocco, or because of the difficulty of finding salespeople with adequate experience in Poland. 
Without dwelling on this point of tension, which is being addressed, the CHIMIREC Group has the ambition to double its international activity very soon.
New opportunities to establish operations in other countries, which present the same favourable conditions, are also being considered.
In conclusion, 2022 is looking good for CHIMIREC International!
Published : 2022-01-14